BENDIX HEAVY DUTY
Bendix Heavy Duty brake pads are a multi-purpose brake pad specially formulated to deliver heavy duty performance for all load carrying situations. Featuring the exclusive time saving Titanium Stripe, they deliver positive pedal feel from the moment you drive out of the workshop. The pads also feature a specially formulated insulation layer between the friction material and the backing plate for cooler braking and longer wear life. Choose Bendix Heavy Duty for ute's, courier vans and pick ups and wherever you have heavy duty towing or load carrying situations.
Insulayer enables the brake pads to operate in high temperature conditions
Longer pad life
Improved fade
Improved rotor life
Titanium Stripe
No bedding in, saveing you time and money
Instant pedal feel from the first stop
Designed for commercial use
Great for towing
Handles extra loads
Ideal for taxis
Wide Range – more than 300 references available
Does not void New Car Warranties
Bendix General CT
General purpose brake pads suitable for passenger vehicles in suburban, city and freeway driving.
Bendix 4WD/SUV
Specially designed for 4WDs and SUVs for on road cruising and extreme off road conditions
.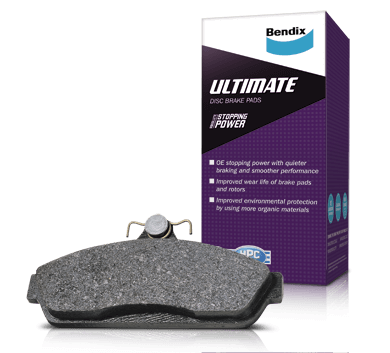 Bendix Ultimate
Supreme braking confidence for sports, performance and prestige vehicles
.